Journey along the River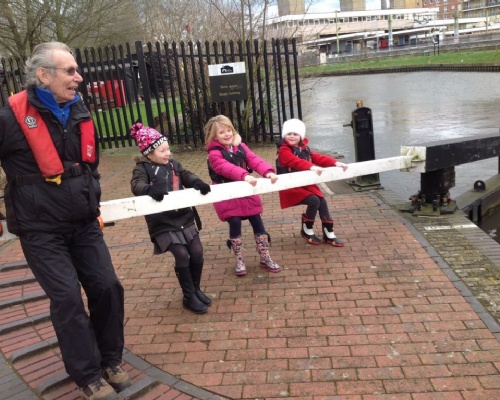 Year 2 joined Canalability and had a lovely day learning about all aspects of the river.
The class were split into two groups for the day. In the morning half went along the river Stort with the other half spending time in the classroom. After lunch they switched.
During the canal ride children used binoculars and activity sheets to see if they could spot different types of birds, flowers and how many people they could see running, cycling or dog walking. They also took turns to steer at the back of the boat and use the horn. Once they arrived at the canal lock, children were taught how to operate the locks to let water in or out of the lock. This was the children's favourite part of the trip!
In the classroom children were taught about why we have canal boats and their purpose. They were shown photos demonstrating how people used to use canals when they were first invented. The staff re-created the inside of a canal boat and taught children about how a family would live their everyday life on a canal boat. They gave the children a chance to take part in a role-play scenario and pretend they were a family living on the boat. Finally children learnt how to open and close a canal lock using a small wooden model.
Children's comments from the trip:
Emilia "It was really good!"
Keira "It was very nice on the canal boat - I enjoyed wearing the life jacket!"
Josh "It was epic! I enjoyed using the binoculars."
Macie – "It was amazing and exciting!"
Thomas. H – "It was terrific!"
Jack – "It was amazing because it was a type of transport."
Faryl – "It was really interesting."