Arts
The arts are central to learning at the school and have an impact on self-esteem, enthusiasm, confidence and attitude to learning … The school is a good provider of arts experiences for primary age pupils.

Artsmark Validation Report September 2014
We believe the arts are a vital part of how we as humans make sense of the world and respond to our environment and those around us. They offer opportunities to use our imaginations and develop creative responses. Using the arts to access learning helps us develop confident and active children. The children learn skills and techniques in various art forms and as they discover interests and talents.
Learning to move expressively develops stamina and physical control. Children develop their own ideas that contribute towards larger scale choreography. Dance always forms an important part of our productions.
From role-play areas in classrooms to performing on-stage at Christmas, the children love the chance to put on a costume and get into role. They learn to speak clearly – and face the audience!
We are enjoying discovering the possibilities of our new technology so we welcome the idea of 'digital arts' to help us in being creative in our learning.
Children learn to look at things carefully and develop an awareness of colour, pattern and shape. They use materials of all kinds, including paints, inks, dyes, fabrics and clay. They are taught a variety of techniques and how to choose the medium most suitable for the project in hand. We have recently re-instated our kiln and plan to develop our work with clay. The children are encouraged to appreciate the work of a range of artists. We regularly visit the local Gibberd Garden and visit London galleries from time to time.
Music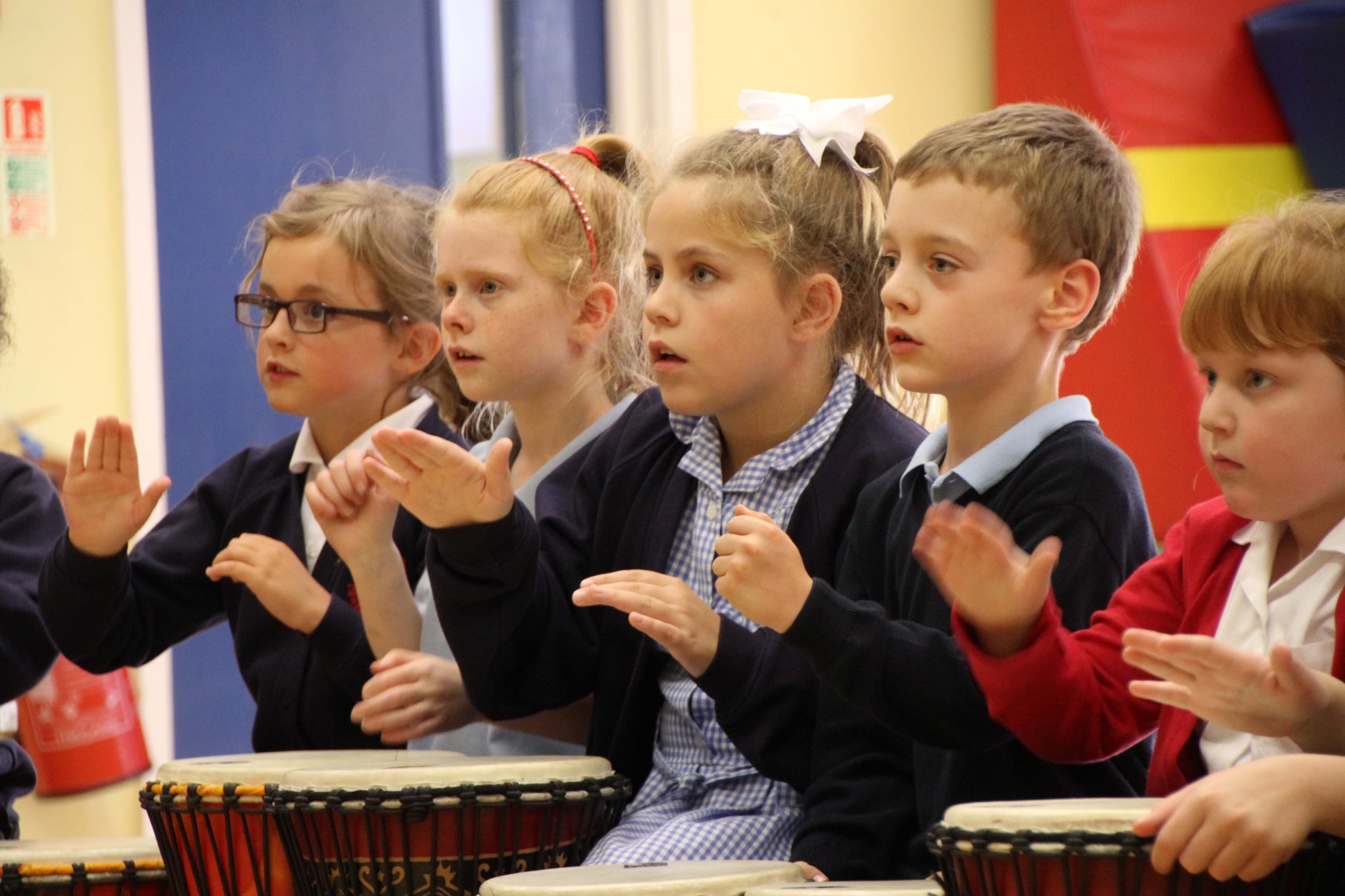 Music is at the heart of the school. And at the heart of our music making is singing – using the instrument we all have. Our children love to sing – in classes, assemblies or choirs. Children learn songs related to their themes and songs that will help them remember things like their times tables.
Class music lessons are taught by a specialist music teacher and provide opportunities to sing, play, compose and perform.
Some classes have the opportunity to learn to play instruments in large groups – recently this has included recorder, drums and violin.
We offer a range of individual instrument lessons including: bassoon, clarinet, cornet, flute, guitar, piano, saxophone and singing lessons. There is a charge for these lessons. Pupils currently registered for Free School Meals receive a significant discount. To encourage children to try out an instrument, the school will pay for the hire of a portable instrument for any pupil for the first term.
Children listen to a wide variety of music. Music for assemblies is carefully chosen around a theme so that children listen and respond to music from different times and places.
Children perform in school, local community venues, Festivals with other schools and large-scale events in major venues such as Barnardo's concerts at the Royal Albert Hall and Young Voices at the O2.
We help to organise the local Infant and Junior music festivals.
We value 'live' music and welcome performers from time to time. Recent visitors have included a string quartet, wind quintet and a blues band.