BUS PROJECT FOR NEW LEARNING ZONE
We are now working on a project to create a new learning zone at the school. As our school is a Victorian building, we lack additional areas where small groups of children can go for interventions or as break out areas for learning. This will be a long-term project, but we have been successful in acquiring a double decker bus which we will turn into a learning zone for small group work, sensory area and space for our learning mentor to use with children. Both the downstairs and upstairs will be developed into valuable space that small groups of children can use. The bus will be situated on the school field.
The project will be in phases and may take a couple of years to complete, but we hope to have something like this.

The first phase was getting a bus and I am delighted to say that Mrs Collins has been successful in this after over 12 months of tireless work.
We are now seeking the legal permissions to have the bus on the school site and will then build a base for it before it can be transported to us. We are hopeful that we may be able to secure a grant to pay for transportation.
The next phase will be ensuring it is watertight and has lighting and heat. We will look into eco-friendly ways of providing this as well as the most cost-effective.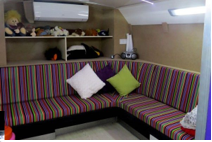 Then the exciting bit comes where we transform it into a learning space using the children's ideas. The upstairs could have an area similar to this for the children to sit and talk, along with a sensory area. The downstairs will be a group work space.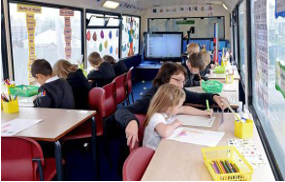 There will inevitably be costs to the different phases, and we have started fundraising towards these. You can see our progress on our fundraising and help tabs.
Please do contact us via the school office and let us know if you think you can help in any way.