Home / School Partnership
COMMUNICATION BETWEEN HOME AND SCHOOL
Communication between school and home is a vital part of life at Fawbert and Barnard's Primary School. We have established many different ways to communicate with each other including: class emails, office emails, Seesaw and Tapestry links, Parentmail, phone calls and zoom meetings where needed.
We take feedback from parents regularly to ensure any new changes work effectively ensuring all parts of the community feel that they are working well.
This website provides access to all school information by selecting the relevant tabs or using search. The class pages contain notices, routines, photos, video and activities linked to what the children are currently learning in class along with homework. Some of the class areas require a log-in which will be issued to parents and children upon admission to the school. It is important that parents check the website regularly to keep up to date with all that is happening as teachers regularly update the class pages. Website pages are accessible from mobile devices with internet and some pages can also be accessed using the website app. Provision is made for any families without any internet access.
We also use a system called 'ParentMail'. This system is used for the majority of school communication involving latest updates, trip notifications, forms/surveys to be completed and on-line payments. An e-mail alert is sent to parents' personal e-mail addresses to inform them that there is new information to view. Many letters will be attached to this e-mail and will be for information which can be read on screen and saved if you wish. Information requiring parental consent will be issued through a form being sent for completion and submitting back to the school. You will also be alerted to payments for school dinners, school visits, music tuition and other school payment requests via this system. Please see below for tips to help use the system. New parents are issued a link to register for Parentmail.
PARENTMAIL TIPS
To help with the smooth running of Parentmail we have some helpful tips that will assist all users. Please note that we are using the PMX version:
F&B App: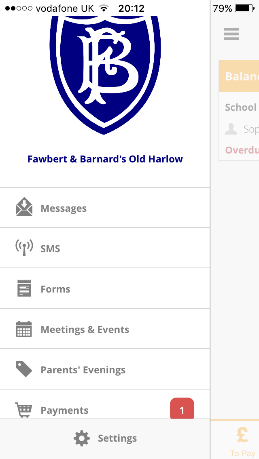 Have you downloaded the correct app to access Parentmail via your mobiles more easily? We have our own branded version pictured on the left.
To download the App for free from either the Apple APP store or the Google Play Store simply search 'Fawbert & Barnard's Old Harlow'.
Please note that parents will need to already be registered on ParentMail in order to access the App and will login with their existing account details.
If you cannot access your account, enter your e-mail details then click on the "forgotten password" and complete the details to obtain a new link.
Forms:
When you receive a form for completion from us, the name of the child it refers to will be quoted under/beside the title.
Please ensure that these are completed and submitted as soon as possible upon receipt and especially before the due date notified within the text. Once the form has expired you are unable to complete and will be shown an error message. The office staff are unable to extend the deadline and would need to re-send the item.
If your child has been invited to attend a festival it is vital we have the information requested ASAP. If your child is unable to attend or you have difficulties with arranging transport amongst parents (if necessary), please let the office staff know immediately to enable us to help or offer the place to another child. This would then avoid the last-minute notification to parents requesting permission to attend and arranging packed lunches.
Forms cannot be resubmitted, but you are able to view your selection made by clicking on the appropriate one. Any change in details would need to be confirmed with the school.
Payments:
If a payment is not showing in the "To Pay" section, click on the "Shop" then add to your basket. You may also need to refresh the page/app to enable viewing.
It would be helpful, where possible, if a lump sum affordable to you could be put onto the dinner account rather than £2 at a time. All credits will remain on your account until used with balances available for viewing under the accounts section within the shop. A daily reminder is automatically sent to you when your account falls below £4.00. Remember – we are unable to provide meals if your account is not in credit. You will be telephoned to either top-up your account within 1 hour or provide sandwiches.
If you encounter any problems, please let us know or use the "help" tab on your log-in bar when accessing your account.
TELEPHONE NUMBERS/ADDRESSES
Please make sure that the school has your current address, telephone number (home, work and where appropriate, mobile) and e-mail details.
It is vital that the school has at least two telephone numbers to use in emergencies. If you are going to be out for the day and we do not have a mobile number for you, please telephone the school office with an emergency number.
APPOINTMENTS
With Teachers
Teachers are available most days after 3:15 pm so please do not approach teachers before 8:50 am, as their class responsibility makes it difficult for them to give proper time to parents when the children are arriving. Please arrange with the teacher concerned to have an appointment after school when they will be able to give you all their attention. Messages needed for the school day can be left on the clipboards or you can ask for the teacher to telephone or arrange a meeting.
With Senior Teachers
On occasions you may be referred to a Senior Teacher or the Deputy Head. An appointment will be made for you at a mutually convenient time.
With the Headteacher
The Headteacher tries to be available to see parents at all times but has commitments that will sometimes make this impossible. In an emergency a member of staff will always see you, but to be sure of seeing the Headteacher, please telephone the school office to arrange a mutually convenient appointment. However, this should only be done after you have already spoken with the class teacher, a Senior Teacher and the Deputy Head.
ANNUAL REPORT & PARENT/TEACHER CONSULTATIONS
Parent/teacher consultation meetings are arranged each term as an opportunity to see pupils' work and discuss their attitude, progress and attainment. Learning Reviews are held with pupils and parents for those in Years 5 and 6. Annual written reports are sent home in July followed by an optional parent/teacher consultation meeting.
SUPPORTING LEARNING AT HOME
Children take their reading book home to their parents/carers and relatives to read aloud and/or discuss it. It is helpful if parents put aside some time each evening to do this. This time should be relaxed, informal and enjoyed by both child and parent.
Homework is set throughout the school to embed the school's ethos that effort and continued practice improve learning. Homework supports and extends the learning experience through reinforcement and application of skills. It provides opportunities for parents and pupils to work together to enjoy learning experiences and can also develop children's independence and individual responsibility.
In the early stages, it is much appreciated if parents oversee tasks and become involved in their child's learning. As children mature, they can take on more responsibility for their homework.
At Fawbert and Barnard's homework is a carefully planned and important part of the curriculum:
Early Years Foundation Stage
The main purpose at Foundation Stage is to encourage reading, sounds and word recognition, handwriting, letter formation and number recognition.
In Year 1 and Year 2
The main purpose is to provide an opportunity for pupils to gain support from parents and discuss and share learning achievements with them. It is also an opportunity to reinforce the learning that is currently taking place in the classroom in a supportive environment.
Homework activities may include: learning spellings, vocabulary and tables, practising their number work and handwriting skills. The main emphasis is on regular reading.
In Years 3 - 6
The main purpose of homework is to develop independent learning. Children are expected to gradually get into the habit of regularly devoting short periods of time to study on their own. The homework tasks are varied in their nature but always relate directly to the work being undertaken in the classroom. Pupils may be asked to explore or practise tables and spelling rules, find out information, prepare for an oral presentation or complete work related to a specific lesson.
For further information, please see the school's Homework Policy.
HOME SCHOOL AGREEMENT
Upon entering school, parents and pupils are asked to sign a Home/School Agreement. This confirms the school's commitment to providing a high quality of education for its pupils and provides an opportunity for parents to confirm their commitment to supporting the school rules and ethos.
The Headteacher will also sign the Home/School Agreement to assure both parent and pupil of the school's commitment to the child's education, well-being and pastoral care.