COMMUNITY
Listed below is information on community events:
We are providing a breakfast club run by our school staff. This is operating Monday to Friday from 7:30 am - 8:40 am. Children arriving before 8:00 am will be provided with a breakfast before being taken to classes at 8:40 am. Sessions require booking in advance. For more information of how we can accommodate your needs, please call the school office and speak with the Office Manager.
Chillout Kids Club operate a breakfast club and after-school club from their Barnmead premises Monday to Friday. However, if they have sufficient children they will deliver to our school and collect at the end of the day. Please click the link for more information.
Home from Home Childcare is available at our school from 3:00 - 6:00 pm during term time and 7:30 am until 6:00 pm during school holidays. Click here for more information.

Julie Morris - Local Childminder
The Knife Angel is in Harlow until 30 September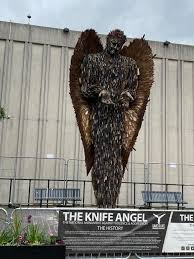 Situated outside The Playhouse this national monument against violence and aggression is an impressive and emotive piece of art that stands to remind us all of the impact that knife crime and other forms of violence has on individuals, families and communities.
We would like to encourage families to visit the monument with their children to see it to learn more about knife crime.
Melanie Hopwood, Founder of the Tommy Jones Project, said "we are thrilled to bring the Knife Angel to Harlow; empowering our youth and raising awareness about the consequences of violence. As someone who has lost their son to the tragedy of knife crime, I am passionate and committed to spreading the message that the Knife Angel stands for: that violence is never the answer. Through this initiative, we strive to foster a community that rejects violence and embraces compassion and understanding."
The Knife Angel leaves Harlow on Sunday 1 October when it will then be hosted by Colchester for the month of October.
Working with The Tommy Jones Project, we will be hosting a closing ceremony on Saturday 30 September at 6pm outside The Playhouse. The ceremony will include speeches, awards and music.
OCTOBER HALF-TERM ACTIVITIES
ESSA are hosting a variety of water activities over the October half-term. Please see here for more information.
Essex Music School
Please see the attached flyer for information on a two-hour Junior music programme specifically for primary school students which runs 10 weeks per term across the school year. Sessions are held on Tuesdays from 4:00 pm.
Home Fire Safety Visits
Please see the flyer for details of how you can book a Free Home Fire Safety visit from the Essex County Fire and Rescue Service.
Harlow Park Run
Join the junior parkrun family every Sunday morning for family-friendly 2K events. Please see flyer below for more details.
Harlow Museum Activities
More information can be found about all events at: https://www.harlowmuseum.com/whats-on/
Harlow College Courses
Harlow College are holding an open event on 28 June from 4:00-6:00 pm. Please see the attached flyer for more information.
ACL Courses
ACL ESSEX Community and Family Learning team support parents with their parenting role – family wellbeing, parenting, SEND support, early years, starting school (primary and secondary), understanding the curriculum (Maths, English, STEM) and other specialist workshops. FREE of charge.
ACL Essex's Community and Family Learning team offer free opportunities for families living in Essex.
Visit their website or Facebook pages
Latest courses available, please click here and here
Jobcentre Near Me have made it easier to find your local Jobcentre Plus offices, benefits and employment information. Please click on the following link or further information https://www.jobcentrenearme.com/
Please see the following link supporting Hate Crime Awareness week:
https://www.yourharlow.com/2020/01/10/fawbert-and-barnard-students-design-hate-crime-posters/